What Is An HR Generalist - And What Do They Do?
If you are interested in a career in human resources, then becoming an HR generalist may be the right choice for you! But what exactly is an HR generalist? And what all do they do? Here is everything you need to know about the position before getting your HR generalist certification.
What Does It Mean to Be a Generalist?
The term "generalist" can mean different things in different industries. So what is an HR generalist? When it comes to human resources, being an HR generalist means that you are a jack-of-all-trades when it comes to HR. You have a working knowledge of all aspects of human resources, from recruiting and onboarding to employee relations and benefits administration.
Why Would You Want to Be an HR Generalist?
There are a few reasons why you might want to pursue a career as an HR generalist. First, it can be a great way to get your foot in the door of the human resources field. If you're not sure which area of HR you want to pursue, becoming an HR generalist is a great way to explore all the different aspects of the field and figure out what you like best.
Second, being an HR generalist can be a great way to build your skillset. Because you will be working in all areas of human resources, you will have the opportunity to learn a lot and build a well-rounded skillset.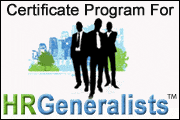 What Are the Responsibilities of an HR Generalist?
So, what exactly does an HR generalist do? Here are some of the most common responsibilities of an HR generalist:
Recruiting and hiring: This includes everything from writing job descriptions to conducting interviews to extending job offers
Onboarding: This is the process of getting new employees acclimated to their new roles and responsibilities
Employee relations: This encompasses everything from managing conflict to investigating complaints
Benefits administration: This includes tasks such as enrolling employees in benefits plans and answering questions about benefits
Training and development: This involves planning and conducting training sessions for employees, as well as developing programs to help employees grow and develop in their careers
Phew! As you can see, being an HR generalist is a lot of work! But it can also be a very rewarding career. If you are interested in pursuing a career in human resources, getting your
HR certification online
is a great place to start. You can earn your HR Generalist Certification by taking either an in-person or online class.