HR Generalists vs. HR Specialists
HR Generalists vs. HR Specialists: The Real Difference Between An HR Generalist And An HR Specialist
When searching for a new job, you might come across job listings for human resources. These jobs are often in charge of supporting the company's employees and helping them perform their best. This can range from recruiting new employees to helping employees with any job-related issues to conducting employee evaluations.
HR jobs require various skills, such as managing employees, evaluating their performance, and understanding the company's needs. But not all job listings are the same. If you look closely at the responsibilities section, you will find that some roles are more suited for a specialist, while others seem like they want a generalist set of skills.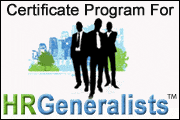 So what is the difference between an HR generalist and an HR specialist, and which one should you strive to become? Let's find out!
What Is An HR Generalist?
A person with a variety of talents who can handle many human resources tasks is referred to as an HR generalist. An HR generalist may handle all HR-related activities for a company on their own or as part of a team that is typically led by a director or a VP.
To meet the various needs of their firm, an HR generalist may have duties that could alter from day to day. An HR generalist might, for instance, spend one day onboarding new hires and the following day answering inquiries from current employees about benefits.
In addition to distributing policies and resolving conflicts at work, HR generalists also collaborate with employees.
Being an HR generalist could be enjoyable for you if you like variety in your workdays if you enjoy speaking with a variety of different people, and if you're early in your HR career and not sure where to begin.
What Is An HR Specialist?
A person who has received training to specialize in a specific field of human resources, such as benefits administration, is an HR specialist.
Before deciding to specialize in a particular field of human resources, these professionals typically receive training as HR generalists. It's not uncommon for an HR professional to start in a smaller company wearing multiple hats and later receive specialist training through HR certifications online. Starting off as an HR generalist is a great way to learn how to work in HR and decide which tasks you would like to specialize in.
Most HR specialists work as a member of a bigger team of HR professionals, including managers, generalists, and other experts.
Pros And Cons Of HR Generalists vs HR Specialists
From a career standpoint, HR generalists:
Have a wide variety of tasks that they do day to day and week to week.
Are necessary primarily in smaller firms and startups
Report directly to a director, VP, or the CEO or business owner
Tend to have lower pay (average pay $48,440 according to BLS) than HR specialists, although they may be higher on the food chain, particularly in smaller companies
On the other hand, HR specialists:
Specialize in a few tasks and have a smaller variety of daily and week-to-week tasks
Are more necessarily in larger firms, where human resource needs are more complicated
Tend to earn more than HR generalists (average pay $62,290 according to BLS), although a wider breadth of knowledge may be required to move into a director role
If you would like to learn more about becoming an HR generalist, even if you have no experience, learn more here:
What Is An HR Generalist
& How To Become One