Description: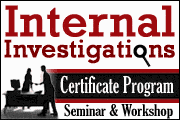 Rating: 4.88 - 494 reviews

This training session is available in both in-person and video conference formats. Same great training; you simply decide which format best fits your needs!

About This Course

When you receive an allegation of workplace harassment or discrimination or have received a potential Ethics violation, taking prompt action is your legal responsibility.

But let's face it: most HR, Employee Relations', Ethics and Compliance professionals – as well as business owners - have never had any formal training in how to properly conduct an internal investigation. And without having the appropriate skills in how to handle allegations in the workplace, and investigate them effectively, employees may feel their complaints are not taken seriously internally.

As a result, employees often take their complaints externally to the EEOC, Department of Labor, or to their attorney. Therefore, our Internal Investigations training course is a must-attend for those individuals who are responsible for handling employee relations issues and conducting internal, workplace investigations.

After all, is the time to learn how to do an internal investigation when you are suddenly faced with having to do one? Of course not. That's where our training can help!

Key Benefits Of Attending Our Internal Investigations Certificate Program

Our intensive, three-day program on the internal investigations process is designed to provide you with the knowledge of why investigations are necessary, an understanding of the labor and employment laws that come into play during investigations, and a thorough understanding of the process from complaint intake to presenting findings. By attending, you will gain the knowledge and skills to help you to more effectively handle allegations, reduce employee complaints, and minimize legal liability.

This program is packed with practical tools, tips, and techniques to improve your investigative skills - and boost your confidence in handling sensitive and complex employee issues.

Using interactive exercises and drawing on years of practical experience, our trainers will outline a step-by-step internal investigation process that can be applied in all types of investigations, including harassment, theft, drug and alcohol abuse, and workplace violence.

By attending our Internal Investigations training seminar, you will learn how to properly handle a workplace or internal investigation, including:
The legal obligations that require employers to conduct internal investigations
How to gather documentary and physical evidence prior to witness interviewing
How to establish a chain of custody and a confidential retention process
How to prepare questions for witness interviews and select appropriate interviewing locations
A standard format for documenting investigative findings
Best practices in handling disciplinary action and terminations to avoid stepping on legal land mines
You Also:
Receive A 'Certificate In Internal Investigations' showing your commitment to training
Earn 18 PHR / SPHR re-certification credit hours!
Earn 18 SHRM PDCs
Support our Wounded Warrior Scholarship Program
Get access to our Internal Investigations Training & Certification Program!
---
More Info
---
This course is available in both in-person and video conference formats. Courses can run on either three consecutive days or three of the same day of the week (for instance, three consecutive Mondays). For specific dates and times, click on your desired date and venue from the list at the bottom of this page.
---
How To Earn Your Certifications
---
Your "Certificate in Internal Investigations"

Upon completion of this seminar, you will be awarded with a "Certificate in Internal Investigations"! This certificate will become a permanent addition to your professional resume, and greatly enhance your value to your organization.



Your "Certified Administrator" Designation

Simply complete the online Training & Certification Program included with this course, then pass the optional exam and you will receive your certificate, suitable for framing



PHR / SPHR Re-Certification Credits!

This program has been approved for 18 re-certification credit hours through the HR Certification Institute.

For more information about certification or recertification, please visit the HR Certification Institute website at www.hrci.org. The use of this seal is not an endorsement by HRCI of the quality of the program. It means that this program has met HRCI's criteria to be pre-approved for recertification credit.

SHRM PDCs

This program is valid for 18 PDCs for the SHRM-CP or SHRM-SCP. For more information about certification or recertification, please visit www.shrmcertification.org.
---
Testimonials
---

Here are just some of what people are saying about this course:
...the most valuable training program I have experienced in a long time!

...the real life scenarios from the other participants and instructor very helpful.

...Kelly was excellent! She knows how to engage adult learners and bring the materials to 'real life' situations which creates true learning experiences.

...The instructor was fantastic. She was very knowledgeable and fluid with the training material, and allowed Q&A throughout the entire class.

...Very comprehensive course.

...one of the few courses that specifically focuses on investigations and is very well done. The "tips", real case stories, and role-playing exercises result in a very pragmatic course that has actual on-the-job impact. Great course!

...Trainer was an expert, had lots of great examples and stories of how to apply concepts.

...Natalie was one of the best presenters I have experienced!

...I truly found the whole training seminar very helpful in my day to day job, I just started doing investigations and taking this class is now going to help me with beginning and completing my investigations fairly.

...The 'role play' was extremely good.

...I found the mock investigations to be the most helpful part of the training. It allowed the group to put into practice what we had learned during the first part of the seminar and apply it to situations we might encounter or have encountered in our own workplaces.

...Our presenter Mary was very interactive and hands on. She would answer any questions and really take time to make sure that we understood everything.

...Natalie is an excellent trainer and provided numerous "real-life" examples and scenarios to illustrate the concepts being presented. This made the information more meaningful.

...I liked that the trainer was available after and before the day to answer questions.

...Ms Ivey, your trainer, was great!

...I thought the interactive role plays were great. Helped cement real world situations.

...This is the 2nd course that I have taken from HRTrainingCenter, and I will take more!

...Another employee at my company took the course and highly recommended it. And she was right!

...Kelly Day was a wonderful, interactive instructor.

...the instructor did an excellent job in keeping the material interesting

...Seminar was great, very beneficial to me!

...Mrs. White was very knowledgeable and thorough. Her insight and use of examples took what could be very confusing and made it very understandable.
---
Special Pricing
---
An "Early Bird" discount is offered for registrations made 30 days prior to the seminar date, so register today to get great training and earn your Workplace Investigations Certificate!


---
Bring This Training To Your Location!
---
Organizations that need to train six or more people can have us come to you - at a savings of 50% or more. Go to HRTrainingCenter.com/PrivateSeminar.asp for more details.


About The Provider:
HRcertification.com offers seminars, webinars, audio conferences, and online training programs to help you better understand and administer the regulations and compliance requirements for COBRA, HIPAA, FMLA, ADA, Payroll, Retirement Plans, Cafeteria Plans, and other federally-mandated compliance.

We also offer specialized seminars for HR Generalists, and on conducting Internal Investigations, as well as advanced courses on Strategic Leadership and Internal Investigations.

Used by almost every major company and TPA in the country, each of our programs includes numerous tips, examples, recommended procedures, realistic scenarios, and interactive quizzes - all designed to help ensure you are learning.

Our programs also allow you to earn either a valuable "Certified Administrator" designation (for our online programs) or a Skills Certificate (for our in-person seminar attendees)! We also offer a "Certified TPA" Program for Third Party Administrators!

Our programs also qualify for HRCI's PHR and SPHR re-certification credits, as well as SHRM's SHRM-CP and SHRM-SCP PDCs. Seminar Policies