Description: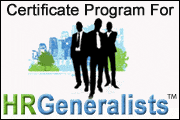 Rating: 4.76 - 483 reviews

About This Course

At Last - A Program That Provides Practical Solutions To Your Everyday HR Challenges!

As an HR Generalist, you are expected to be an expert in every human resource function, including everything from hiring to compensation to payroll to performance management to the numerous employment laws such as the FMLA, ADA, COBRA, FLSA, IRCA, and many more.

Not only do you need to have a strong knowledge base in all areas, but even more importantly, you need to be able to apply your knowledge to the daily situations that arise in your workplace.

Key Benefits Of Attending The Certificate Program For HR Generalists:

This course has been designed to provide you with practical solutions to the HR challenges you confront everyday.

You'll get the vital knowledge you need to succeed - plus the critical strategies to perfect your HR skills. By attending this three-day training program, you will:
Discover best practices and indispensable strategies for every HR function
Acquire the practical knowledge and tools you need to navigate employment law landmines
Get to practice what you learn through "real-life" case studies!
Network with HR professionals from across the country in an exciting location
Support our Wounded Warrior Scholarship Program
Earn an "HR Generalist Certificate" that enhances your professional growth
Earn 18 PHR / SPHR re-certification credit hours!
Earn 18 SHRM PDCs
You also receive access to our Training &Certification Programs for FMLA, ADA, COBRA, and Paycheck Fundamentals!
Included as part of your seminar enrollment fee, these award-winning training courses teach you how to comply with these laws, and include numerous administrative tips and procedural recommendations for keeping your organization in compliance.
With these programs, you also receive FREE updates whenever the law changes, plus the ability to earn a "Certified Administrator" designation, which provides more value for you and your organization!
Learning Objectives / Key Agenda Items
This intensive, three-day training program includes 14 information-packed sessions - plus Interactive Exercises - covering everything you need to excel as and HR Generalist. Here are some of the things you'll learn/benefit from:
Understanding HR's role within the organization to add maximum value
How to create a strategically-aligned HR department to drive organizational results
Strategies for identifying and overcoming the current challenges in the HR profession
Learning what to do to improve HR's brand image within the organization
Employer obligations regarding when to conduct workplace investigations
Common laws that create additional "boundaries" in the contemporary workplace
Understanding today's "must-have" company policies to minimize risk of litigation
Understanding your compliance obligations regarding FMLA, ADA, COBRA, and more
Implementing strategies to control and investigate FMLA abuse
Learning how to handle personal time off (PTO), vacation, sick pay, and workers' compensation
Handling "sticky issues" such as declining employee performance, absenteeism, and unreasonable requests
Recruiting: what's working – and what's not
Contemporary strategies for employee on-boarding – knowing how and when to leverage technology in the process
Learning how to conduct a thorough needs analysis to determine if training is even the answer
Common organizational mistakes in developing training programs and how to avoid them
Learning the critical steps in developing a training project: from initial scope to evaluation of program
Learning why clear, measurable, aligned objectives are the keys to training program success
Understanding contemporary strategies in designing compensation systems
Learning why variable compensation is growing in popularity
Understanding how to create an effective benefits survey to obtain valuable data
Understanding what is working - and not working - in performance management
Beyond reviews: understanding the action steps to effectively manage employee performance
Learning how to identify the issues HR owns vs. what the leadership team owns
Identifying strategies to coach, mentor, and develop supervisors and managers to facilitate more positive employee relations
Your HR Career: where do you go from here?
Other Info
This course is available in both in-person and video conference formats. Courses can run on either three consecutive days or three of the same day of the week (for instance, three consecutive Mondays). For specific dates and times, click on your desired date and venue from the list at the bottom of this page.
Testimonials
Here are just some of what people are saying about this course:
...Your trainer (Bridget) was wonderful! She was very knowledgeable and approachable. I would highly recommend this program.

...Great class - my head is still spinning with all the great info.

...Jan is an excellant teacher. I highly recommend this program for others.

...The training was unbelievably helpful, and I think it had everything to do with the material and the Presenter's knowledge about the topic

...I enjoyed the interactive activities, especially where we got to share and listen to what works and doesn't work at our various jobs and companies.

...I would highly recommend this seminar to anyone in the HR profession. Whether you are an HR Generalist or Supervisor, just starting out in your HR career or a seasoned professional, this course contains a wealth of information that anyone can benefit from.

...Absolutely enjoyed it! Natalie - the trainer - was awesome!

...I loved this class and would recommend it to any new HR professional for sure.

...The trainer made sure to integrate our learning with real examples and real cases.

...I enjoyed the class size, as we were able to have multiple productive conversations throughout the classes.

...I liked the interactive classroom time...it created group conversation that lead to other questions and answers.

...Ms. Mary White was an excellent facilitator, and I have already recommended the course to other colleagues.

...Can't say enough positive things about Natalie. She was just fabulous!

...It was truly a great course!

...Mary White was great! She was extremely knowledgeable and a wonderful instructor. I would definitely recommend her class to others.

...The training/trainer was great. I also liked that we had a small group so networking was fun. Hearing about different backgrounds and scopes of work for others was helpful and we were able to apply our experiences to the training material, so that really helped.

...This was a great experience. I am looking forward to more training from your company.

...Natalie's experience and real-world examples were very helpful in understanding how to handle various situations.

...Excellent seminar...plus I have already accessed one of the online courses included with this seminar and found it to be excellent as well.

...Kelly Day was an awesome instructor. Very pleasant and made the course interesting and informative.
How To Earn Your Certifications
Your "HR Generalist Certificate"

Upon completion of this three day seminar, you will be awarded with an "HR Generalist Certificate"! This certificate will become a permanent addition to your professional resume, and greatly enhance your value to your organization



Your "Certified Administrator" Designation

Simply complete any of the Training &Certification Programs included with this course, then pass the exam and receive a certificate that is suitable for framing



PHR / SPHR Re-Certification Credits

This program has been approved for 18 re-certification credit hours through the HR Certification Institute.

For more information about certification or recertification, please visit the HR Certification Institute website at www.hrci.org. The use of this seal is not an endorsement by HRCI of the quality of the program. It means that this program has met HRCI's criteria to be pre-approved for recertification credit.

SHRM PDCs

This program is valid for 18 PDCs for the SHRM-CP or SHRM-SCP. For more information about certification or recertification, please visit www.shrmcertification.org.
Special Pricing
An "Early Bird" discount is offered for registrations made 30 days prior to the seminar date, so register today!


About The Provider:
HRcertification.com offers seminars, webinars, audio conferences, and online training programs to help you better understand and administer the regulations and compliance requirements for COBRA, HIPAA, FMLA, ADA, Payroll, Retirement Plans, Cafeteria Plans, and other federally-mandated compliance.

We also offer specialized seminars for HR Generalists, and on conducting Internal Investigations, as well as advanced courses on Strategic Leadership and Internal Investigations.

Used by almost every major company and TPA in the country, each of our programs includes numerous tips, examples, recommended procedures, realistic scenarios, and interactive quizzes - all designed to help ensure you are learning.

Our programs also allow you to earn either a valuable "Certified Administrator" designation (for our online programs) or a Skills Certificate (for our in-person seminar attendees)! We also offer a "Certified TPA" Program for Third Party Administrators!

Our programs also qualify for HRCI's PHR and SPHR re-certification credits, as well as SHRM's SHRM-CP and SHRM-SCP PDCs. Seminar Policies