Earn An HR Certification With Our Certified Administrator Programs
Add Value To Your Job And Your Organization With A "Certified Administrator" Designation
Compliance requirements for FMLA, ADA, COBRA, Cafeteria Plans, Retirement Plans, Payroll, and the like are very complex and subject your organization to severe fines and penalties for non-compliance - no matter how simple or inadvertent the error may be.

Whether you are new to HR, being cross-trained, or coming from another discipline to take over the compliance requirements for your organization, you want to be certain that you do things correctly.
Our Certified Administrator designation provides great, consistent training from a trusted third party (no more learning from Bob, who learned from Sue, who learned from Mary, etc.), AND improves your personal value to the organization!
How The Certified HR Administrator Program Works
Each of our courses are self-paced, online programs that are designed by industry experts to provide in-depth training on the topic area. Each course includes numerous tips, examples, procedural recommendations, and interactive quizzes to help ensure that you are learning!
And once you complete the course, all content is available as reference materials so you look up things as needed.
See How The Course Works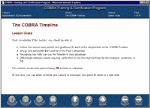 Click here
to see our easy-to-use layout, interactive questions, and skills testing.
To earn your Certified Administrator designation, simply complete the course, then pass the certification test with a score of 85% or better. Note: A special feature of our programs enables you to view any incorrectly answered test questions so you can determine what areas, if any, need additional review or training.
Certified Administrators maintain their designations by renewing their Training & Certification Programs each year. The annual cost is only $99, and provides continued access to all training materials, FREE updates whenever the law changes, and a new Certificate.
Need Training For More Than One Person? Qualify For A "Certified TPA" Designation?
Organizations enrolling three or more individuals also receive our Management Interface at no cost. This interface lets managers view employee progress, test scores, and any incorrectly answered test questions, which is great for remedial training!
The Certified Administrator designation adds value to the job of an administrator, and gives administrators and management a trusted third party training partner. All courses also can be customized. Third Party Administrators also can earn a Certified TPA designation.
Please click on a course name below for additional detials about that course.
Courses That Offer A "Certified HR Administrator" Or A "Certified TPA" Designation

Related Links
HRcertification.com provides extensive online human resource training through their many human resource classes, including HIPAA training, HIPAA certification, HIPAA privacy training, ADA training, FMLA certification, COBRA training, FLSA training, 401k training, cafeteria plan tranining, OSHA training OSHA certification, and many other HR training courses.