Certified Payroll Administrator Training
Among all the internal responsibilities of U.S. businesses, perhaps none is subject to as many governmental regulations and requirements as payroll.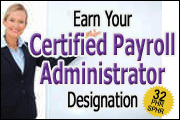 Now you can get trained on these requirements, plus enhance your skills with our "Certified Payroll Administrator" designation.
What Is Covered In Our Payroll Training Courses?
Our payroll certification training courses cover how to:
Properly "classify" workers
Apply the various exemptions
Calculate gross pay and properly make deductions
Properly identify, pay, and withhold taxes for employees
Administer deferred compensation, cafeteria plan, sick pay, and other compensation
Handle stock options, expense reimbursements, relocation, and other "expenses"
Follow the proper policies, procedures, and documentation requirements for garnishments and levies
Correctly complete year end requirements and establish the year-beginning requirements
Implement and maintain audit, disaster recovery, and record retention processes and procedures
Benefits of Certified Payroll Training Course
The training includes numerous examples, administrative tips, and interactive Q&A with answer rationales to help provide valuable insight into compliance requirements while testing your comprehension and application of the learned material! Being self-paced, the courses also allow you to earn at your own pace without time out of the office!
Our Payroll Certification Training Courses Include
:
Our award-winning training interface
One full year of access to content
FREE updates whenever the law changes
FREE testing to earn the "Certified Payroll Administrator" designation
FREE Management Interface for tracking employee progress, test scores, and any incorrectly answered test questions when you order for three or more individuals
32 hours toward your PHR / SPHR re-certification requirements
Organizations with 100 or more employees requiring Payroll training can customize this course. Please click here for details or call us at 678-366-3959

Become A "Certified Payroll Administrator"


Earn 32 Hours Of SHRM Or HRCI Re-Certification Credits

Recipient Of The ASTD "Excellence In Design" Award
Who Should Use The Certified Payroll Administrator Program?
The program is for payroll professionals who must deal on a daily basis with wage and hour, garnishment, travel, expense, cafeteria plan, retirement plan, fringe benefit, PTO, and numerous other benefits and compliance issues.
Included Courses
This program includes the courses listed below, and retails for $1499 (a savings of $497 if you purchased the courses individually). You must complete all courses to earn the Certification. Click on the course titles to see their respective table of contents:
Payroll Certification Training
No matter how much an employee might love their job, the bottom line is simple economics: If you want employees to continue coming into work, they must be paid consistently. However, payroll can be a complex task that has a lot of potential for error. Payroll certification is a valuable credential that speaks to a professional's proven level of knowledge and competence in the payroll field.
To obtain a payroll certification, professionals must complete certification training, which typically culminates in an exam and covers a range of vital payroll topics. These topics typically include how to:
Classify workers
Administer compensation and benefits
Identify, pay and withhold employee wages
Properly calculate gross pay and tax reductions
Implement a payroll system
Accurately manage payroll audits
Implement proper filing and documentation procedures
Complete year-end payroll requirements
Benefits Of Completing Payroll Certification Training
The demands on a payroll professional are extensive. Beyond simply handing out checks on a biweekly or monthly basis, payroll specialists are responsible for knowing the complex ins and outs of the field, including tax reductions, health benefit implications, paid time off and much more. Formal payroll training will help them to manage these responsibilities properly and meet local, state and federal standards.
In addition, the payroll field is constantly evolving to meet technological advancements. Payroll personnel continue switching from paper to electronic accounting, which comes with a learning curve and many new functions of its own. Proper training can help them to use electronic systems to their full potential.
Finally, earning a payroll certification reflects a specialists' credentials and work ethic. It demonstrates a commitment to excellence that current or future employers look for. To learn more about registering for payroll certification training, contact HR Certification today. We can help provide the exam materials and resources you need to excel in this endeavor.
Our payroll training courses and payroll certification training programs provide top-notch payroll training on day-to-day payroll operations, including calculating and issuing paychecks and complying with multiple payroll reporting requirements. Sign up now to become a Certified Payroll Administrator!