Earn An HR Certification!
Benefits Of An HR Certification Or An HR Certificate Program
HR certification programs offer HR professionals a chance to acquire essential skills that can help enhance and advance both your knowledge and your career. Benefits of a Human Resources certification include: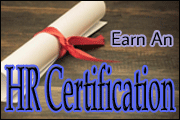 Increased knowledge, skills, and competency
Additional credibility and validity
Differentiates you from co-workers or competition
Increases your job mobility – and makes you more likely to receive pay increases!
Why HRcertification.com for your HR Certificate or Certification Programs
HRcertication.com
has provided HR certification courses and HR certificate programs since 1996 via online, in-person, and virtual HR certification courses as described below.
About Our HR Certification Programs
Our Human Resources certification courses cover federally-mandated compliance requirements for FMLA, ADA, COBRA, Payroll, Retirement, Cafeteria Plan, and other laws. These courses are used primarily by HR managers and human resources professionals who must handle administration / compliance for these laws. In other words, the people sending out the appropriate forms and notices, collecting premiums or taking deductions, and communicating with current and ex-employees.
Each of our HR Certificate Programs includes not only the training on how to effectively comply with the mandated requirements, but updates whenever the laws change, as well as the ability to earn a
Certified Administrator"
designation by taking the topic-specific exam.
About Our HR Certificate Programs
Our Human Resources certification programs are used primarily by HR Managers, Business Owners, and other professionals who need to understand the basics, theories, and best practices behind a specific topic such as FMLA administration, but do not necessarily need to know the exact details behind the topic, nor want or need a certification on that topic.
The one exception here is our Internal Investigation Certificate Program, which provides detailed help for handling situations such as bullying, retaliation, fraud, abuse, or other topics that could easily turn into a lawsuit or damaging publicity. We offer this as a certificate program rather that a certification program because internal or a workplace investigation is really about hearing and analyzing information, speaking with witnesses, etc. - in other words, a "process" rather than a definitive compliance requirements for how or when should you provide an FMLA or COBRA notice.
What Is An HR Certification Program? How Do HR Certification Programs Differ From HR Certificate Programs?
Simply stated, an HR Certification Program provides training, then testing against what you have learned, whereby an HR Certificate Program provides the training, but does not test you against the learned content.
What Are The Best Online HR Certification Courses?
Below are our best and best-selling HR certification and HR certificate courses. Note: Some of the recommendations below are offered in online, as well as virtual or in-person formats.
The Best Online HR Certification Courses
The online Human Resources certification courses listed below help HR professionals to comply with a variety of HR compliance requirements. Each of these online HR certification courses provides very in-depth coverage of the topic, and includes lots of tips, examples, and procedural recommendations, as well as free updates whenever the law changes! Click on the course title for more details.
---
Certification Programs For HR Compliance
---
Listed below are several great Human Resources certification programs to help with your HR compliance needs. Each of these is an online HR certification program that includes numerous tips, examples, and procedural recommendations to help meet your HR compliance responsibilities.
---
---
---
---
---
---
Payroll Certification Programs
---
Listed below are our Payroll Professional certification programs. You can earn a payroll certification on individual payroll areas such as operations, reporting, and management, or take the Certified Payroll Administrator certification program to get yourself trained on all areas of payroll compliance.
---
---
---
---
---
---
---
---
---
---
---
---
Act now to become a Certified Retirement Administrator by ordering one of our Certified Retirement Administrator training courses.
---
The Best Online HR Certificate Programs
---
The majority of the online HR certificate programs listed below are available not only online, but via virtual and in-person formats. Simply click on the course title for more details.

Which HR Certification Programs Are Best For Beginners?
The answer to which HR Certification courses are best for beginners depends upon a number of factors. For instance, if you are new to HR, our HR Generalist Certificate Program is probably best for you as it provides a broad overview for anyone new to HR.
Similarly, if you work for a small organization, you most likely have to handle all or a vast majority of Human Resources compliance requirements, namely everything from benefits to payroll to retirement plans to cafeteria plans and more.
Conversely, if you work - or plan to work - for a larger organization, you are most likely to "specialize" in one of more of the above-mentioned topic areas, so should take training on that specific topic. For instance, if you are assigned to handle COBRA administration, you should take our COBRA Training & Certification Program; if assigned to handle payroll, take our Payroll course, etc. etc...
Are Online HR Certificate Programs Effective?
One could easily argue that online Human Resources Certification Programs or Payroll Certification Programs are extremely effective learning formats because you not only receive immediate feedback, but an online HR Certificate Program or a Payroll Certification Program means that you are being tested against what you learned.
Take our FMLA Training & Certification Program for example: following standard Instructional Design format, the course is broken into multiple "Lessons" of 20 or so minutes each that cover a specific topic or function. The first page of each Lesson includes Lesson Goals (in other words, the key learning points for that lesson), is then followed by training (in English, not legalese!) that includes numerous tips, examples, and procedural recommendations, then concludes with "End Of Lesson Quiz" questions that not only test the key learning objectives for that lesson, but provide answer rationale to help ensure learning.
---
Related HR Certification Programs
---
Add Value To Your Job And Your Organization With A "Certified Administrator" Designation
Compliance requirements for FMLA, ADA, COBRA, Cafeteria Plans, Retirement Plans, Payroll, and the like are very complex and subject your organization to severe fines and penalties for non-compliance - no matter how simple or inadvertent the error may be.

Whether you are new to HR, being cross-trained, or coming from another discipline to take over the compliance requirements for your organization, you want to be certain that you do things correctly.
Our Certified Administrator designation provides great, consistent training from a trusted third party (no more learning from Bob, who learned from Sue, who learned from Mary, etc.), AND improves your personal value to the organization!
Each of these HR certification programs are self-paced, online programs that are designed by industry experts to provide in-depth training on the topic area. Each course includes numerous tips, examples, procedural recommendations, and interactive quizzes to help ensure that you are learning!
And once you complete the course, all content is available as reference materials so you look up things as needed. [
Read More
]
Gain A Competitive Advantage With A "Certified TPA" Seal
If you provide COBRA, Cafeteria Plan, Retirement, or other TPA services, you know exactly how competitive the marketplace is: you fight against "we can do it cheaper internally" or get stuck in price discussions about proposals from other TPA firms all the time.
But now you don't have to base your marketing on "We're Cheaper". Instead, you can differentiate your firm and lead with your "Certified TPA" seal to win and retain the business!

Benefits of earning a Certified TPA seal include:
Standardized training from a trusted third-party allows you to provide consistent training to your employees
Time savings from having to train your staff internally
Free Management Interface that lets managers view employee progress, test scores, and any incorrectly answered test questions, which is great for remedial training!
Employee recognition through "Certified Administrator" certificates that are provided to each of your administrators who successfully completes a course
Bottom line, your Certified TPA seal tells your prospects and clients that your staff not only has been trained by a trusted third-party, but have passed a stringent Certification Exam that tests their administrative skills! But don't just take our word for it, we are the featured training partner for the National Association of Professional Benefit Administrators member TPAs!
Read More
]