Americans With Disabilities Act (ADA): Employers' Responsibilities And Requirements
Employer Responsibilities And Requirements For The ADA
The Americans with Disabilities Act (ADA) aims to provide equal opportunity to people with disabilities while preventing discrimination against them. It aims to protect people with disabilities from harassment while providing a level playing field for them in the professional world.
Employers are required to make sure that people with disabilities:
Have equal opportunity to seek for and work in jobs for which they are qualified,
Are given an equal opportunity to advance to higher ranks,
Have equal access to all employment advantages and privileges available to employees, and
Are not harassed in any manner due to their disability
Which Employers Are Responsible Under the ADA?
The ADA is a federal law that applies to businesses in all 50 states. It includes private sector employers and public sector employees in state and local governments. Employment agencies (such as temp agencies), labor organizations, and labor management committees must comply with the ADA rules.
ADA Minimum Employee Requirements: Employers with more than 15 employees are required to comply with ADA rules.
Who Does The ADA Apply To?
The ADA applies to people with disabilities. A ?person with disabilities? is defined as someone who:
Has a physical or mental impairment that substantially limits one or more major life activities,
Has a history or record of such an impairment (such as cancer that is in remission), or

Is perceived by others as having such an impairment (such as a person who has scars from a severe burn)
Examples of disabilities include:
Physical disabilities, like blindness, deafness, cerebral palsy, diabetes, traumatic brain injuries
Mental disabilities like major depressive disorder, ADHD, bipolar disorder, post-traumatic stress disorder, intellectual disabilities
Can An Employer Deny A Job To Someone Based On Their Disability?
The ADA states that a person with all the necessary skills and qualifications to fill a job cannot be denied the job based on their disability. This is meant to prevent discrimination against people with disabilities during recruitment.
However, an employer is free to deny the person the job based on their qualifications (or lack thereof). The law does not require an employer to prefer an applicant with disabilities and allows the employer to hire the most qualified person for the job.
Reasonable Accommodation According To The ADA
Employers are required to provide reasonable accommodation to the employee so that their disability is not a barrier to doing their jobs effectively. Reasonable means that the accommodation should not put undue hardship on the employer; that is, it should not impact productivity or cost too much. This may include: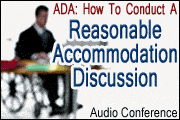 Equipment or software that allows the employee to do their job
Changes to the workspace
Moving minor, non-job-critical responsibilities to other employees
Changes to working hours to accommodate schedules, including additional unpaid leave
Working from home
Accessible Parking
Employers who provide parking spaces to employees are required to make a certain portion of their parking spaces accessible. Accessible parking spots must have access aisles, be located on the shortest accessible route to the entrance of the building, and must be of a certain size.
Learn more about specific accessible parking requirements on the ADA.gov website.
Further Reading
Learn everything you need to know to grow your career as a human resources professional handling the ADA; go to
The ADA Training & Certification Program