The FMLA Training & Certification Program
FMLA usage is on the rise, and more and more employees are enforcing their rights through the courts.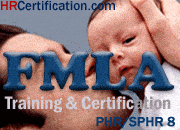 When an employee misses work, it is the employer's responsibility to determine whether FMLA applies. You can't afford not to know the rules!
Understanding all of the intricacies of the Family Medical Leave Act can be a daunting task. Whether you are new to employee benefits or are an experienced Human Resources professional, this course will provide all of the latest information on FMLA compliance.
About The Course: How To Earn Your FMLA Certification
Our FMLA Training & Certification Program contains comprehensive information about FMLA, including numerous examples, illustrations, and compliance tips to help you understand and comply with FMLA and its requirements.
And both the Program training and the Certification test will demonstrate that you have achieved a high level of expertise when it comes to the technical aspects of FMLA, as well as the practical considerations related to complying with all of the detailed requirements.
The Program also includes an optional test for those who wish to earn a Certified FMLA Administrator designation. This Program also qualifies for eight hours of SHRM and HRCI re-certification credits!
The Program's easy-to-learn design has numerous tips, examples, and procedural recommendations that are interspersed with interactive Q and A sessions so that you are confident that you are learning and in where your strengths and weaknesses lie. It's "Bookmark" feature also lets you learn at your own pace, and gives you the ability to review previously completed material.
Besides The Basics, Our FMLA Certification Course Will Teach You How To:
:
Distinguish between family leaves and medical leaves and know which are subject to the law
Identify what constitutes a "serious health condition"
Determine when an employee on intermittent leave has used up his or her "12 weeks"
Understand the different considerations for determining a leave year, and the advantages and disadvantages of each approach
Develop notices that comply with the various technical requirements of FMLA
Comply with the DOL's employment restoration and benefit protection rules
FMLA Training Features of TPAs and Large Organizations
Like all of our Training & Certification Programs, organizations enrolling three or more individuals in the FMLA Training & Certification Program receive our Management Interface at no cost. This interface lets you view employee progress, test scores, and any incorrectly answered test questions, which is great for remedial training. The interface also permits hierarchical levels whereby managers can view the progress, test scores, etc. of their direct reports.
TPAs also can earn a "Certified TPA" seal for use on your website, marketing materials, and proposals to help add to your firm's value proposition.
Please call us at 678-366-3959 for questions on the interface, the seal, or the discounts for multiple person pricing.

Become A "Certified FMLA Administrator"


Earn 8 Hours Of SHRM Or HRCI Re-Certification Credits

Recipient Of The ASTD "Excellence In Design" Award
An Overview Of FMLA Regulations
The Family and Medical Leave Act of 1993 (FMLA) requires certain employers to allow eligible employees to take unpaid, job-protected leaves for certain family and medical events, such as the birth of a child and/or care of a spouse, child, or parent with a serious health condition.
Employers are subject to the FMLA if they employ 50 or more employees on each working day during each of 20 or more workweeks in the current or preceding calendar year. These employers are "covered employers" for purposes of the FMLA.
FMLA Employer Guidelines: The FMLA Requirements And FMLA Training Tips
Like most federal employment laws, FMLA employer guidelines are very strict, so employers should make sure that they have a good FMLA training program for their HR team. Because non-compliance with FMLA requirements would bring fines and penalties, your FMLA training class should cover at least the following FMLA employer guidelines:
An understanding of the FMLA notice requirements
How to count your full- and part-time employees to determine if your organization is a "covered employer"
Know what is - and is not - a "serious health condition"
Describe what constitutes "medical leave under the FMLA
Know the requirements for medical certifications
Determine when an employee on intermittent leave has used up his or her "12 weeks"
How to comply with the DOL's employment restoration and benefit protection rules
How to integrate state and federal leave laws
How to determine the "leave year" period
How to track leave
Understand when an employer can deny FMLA leave
What an employer can do if it suspects FMLA abuse
Don't wait; get your FMLA training now with our FMLA Training & Certification Program!
Who Should Use The FMLA Training & Certification Program?
The FMLA Training & Certification Program is ideal for human resource professionals and HR department heads who handle the day-to-day issues and administration of FMLA.
It is also good for HR Managers or CFOs who seek satisfaction knowing that their administrators are properly trained and up to date on FMLA issues. Last, individuals looking to add value to their job experience can earn the valued "Certified FMLA Administrator" designation.
Excerpts From Our FMLA Training & Certification Program
Below are a couple of samples from our FMLA course. Simply click the applicable link to get an overview of the training or, for a larger view, click
here
to see the complete list of covered topics.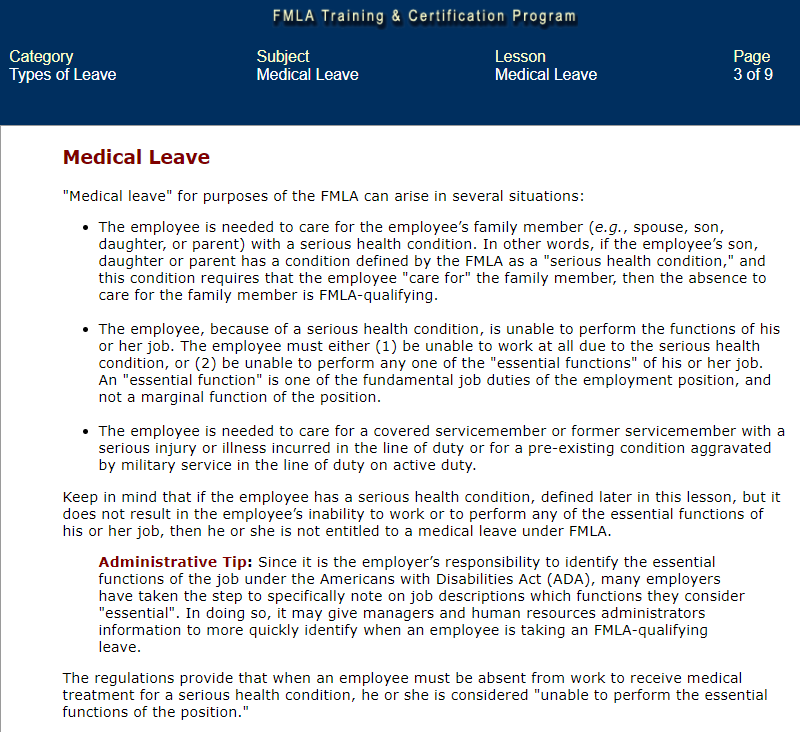 Pricing/More Info/Purchase
Your FMLA training can be purchased as a Training & Certification Program ($599) or Manual ($599) only, or combined ($799). We also offer discounts for purchasing training for multiple employees or administrators.
About The FMLA Procedures Manual
Get instant answers for your FMLA questions - as well as all your FMLA-required forms and notices - with our searchable FMLA Procedures Manual.
Available as an online resource so that you always have the most up-to-date version, this package includes all FMLA-required forms, notices, and recommended procedures, all of which are easily accessible from either the Table of Contents or via links throughout the Manual.
---
About FMLA Administration
The Family and Medical Leave Act (FMLA) was first enacted in 1993. Since then, this law has become the benchmark of governmental efforts to create a mandated healthy work-life balance and ensure the protection of employees who need to take time to care for themselves or their families.
The FMLA grants employees up to 12 weeks of unpaid leave during any given year to care for a new child or family member's illness. Since its enaction, FMLA claims have become fairly common, with approximately 20 percent of employees filing an FMLA claim lasting an average of six weeks each year. Not every case is considered eligible, as it should be noted:
Not every employer is required to grant leave. Employers with less than 50 employees aren't mandated to follow this law
Employees must have worked for their employer for a minimum of one year, with at least 1,250 hours of work to claim this benefit
Employees may be required to show medically certified proof if asked by their employer
FMLA law requires that employees be given a job following their leave, but it doesn't require that they are reinstated in the same position as before
Earning An FMLA Certification
The FMLA law is complex, with claims often involving corresponding disabilities or workers' compensation claims. This can result in a heavy administrative burden for employers and a confusing amount of paperwork for employees.
In addition, employers can find themselves limited by the law when it comes to their ability to contact an employee's health care provider and request information. According to FMLA regulations, direct supervisors are allowed to verify whether a medical claim is certified, but they cannot do so on their own. They're required to use a human resources professional or another administrator to make this contact.
FMLA training is available to prepare HR professionals or other management personnel to handle these cases. Due to the complexity of FMLA law, it's advisable to have team members knowledgeable about the ins and outs of following proper procedure. Earning an FMLA certificate demonstrates expertise in both the technical and practical aspects of following FMLA regulations. Contact HR Certification today to learn more.
Our FMLA certification training course contains information about FMLA administation, regulations, and compliance requirements that include examples, illustrations, and lots of FMLA administrative tips. Signup for our FMLA certification program today!