Our HR Seminars
HRcertification.com offers the following in-person HR seminars to help with your HR training and career development needs. Each of these seminars provides excellent training from industry experts to help you stay in compliance and avoid penalties - as well as develop networking opportunities.
To see the full course description, available cities and dates, and the course agenda for each of these HR training seminars, simply click the course title.
If our listed cities and dates don't work for you, or you simply prefer to do your HR training via self-study or online formats, then click here for a full listing of our online HR training classes.
Available HR Seminars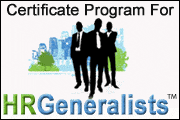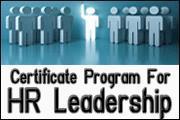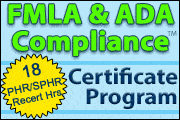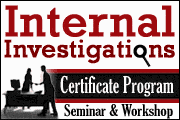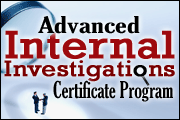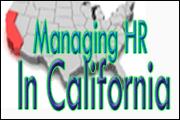 Managing HR In California
By attending this one-day program, you will gain insight into California's wage and hour laws, Pay & Scheduling requirements, leaves, California's safe workplace requirements, and more.
Get Seminar Details:
Details
|
Venues & Dates
|
Agenda
Bring Our Training To Your Location!
On-site training is quicker, easier, and more cost-effective, so why not have us come to you? We offer a number of programs that you can offer at your office or city, saving your people and organization travel time and costs. Either call us at 678-366-3959 or fill out and submit our request form to get started!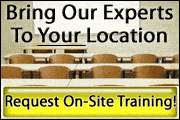 Benefits Of Private Training:
Cost-effective
Convenient
Customizable
Confidential
Positive effect on team dynamics
Flexible: You decide the best date and time to meet based on your company or team's schedule
Pricing
On-site training is definitely more cost-effective if you need eight or more people trained. Generally speaking, the costs are as follows:
Base cost of $9,950, which covers all costs and materials for up to ten employees
$499 for each attendee over ten
Up to two hours of customization provided free
Speaker fee included
You also are responsible for any travel, hotel, and venue costs. Even so, the total cost is still more than 50% off of the costs of sending your team to one of our publically-held sessions!
Note: We can also accommodate requests for customized content or "combinations" for training. That is, we can combine both in-person and online training needs into one consolidated solution. Please be sure to include this fact in the request form if this is a need for your organization.
Other Available HR Training Seminars
A variety of other HR training seminars are available through HRTrainingCenter.com, our sister website. Some of these include:
HRTrainingCenter.com
to view other courses.
HR Training Seminars In Key States
HRcertification.com provides HR Generalist, FMLA/ADA, Internal Investigations, and other HR training seminars in cities and states thoughout the United States.
These seminars provide key information that an HR professional must know and do successfully in order to succeed at his or her job. By attending, you will learn a variety of information, including:
Understanding HR's role within the organization to add maximum value
Your compliance obligations regarding FMLA, ADA, COBRA, and other applicable laws
Best practices in handling disciplinary action and terminations to avoid stepping on legal land mines
Understanding today's "must-have" company policies to minimize risk of litigation
Employer obligations regarding when to conduct workplace investigations
Each seminar culminates in a certificate that can be added to resumes and that shows proficiency in the human resources profession.
Here are some of our most sought-after courses in a few selected states:
Prefer On-Site Training?
Prefer having us come to your location for this training?
Contact us
if you have a group of nine or more for details, including discounted pricing.
FAQs on HR Seminars
What is the purpose of the HR seminars?

The purpose of the HR seminars is to provide continuing education for human resources professionals. These seminars cover various topics, such as benefits administration, compliance, and employee relations. The seminars also provide an opportunity for HR professionals to network with other professionals in their field. If you are interested in attending one of the HR seminars, please contact our office at 678-366-3959.

What are the benefits of attending an HR seminar?

The benefits of attending an HR seminar includes staying up-to-date on the latest compliance issues, learning new best practices, and networking with other HR professionals. Seminars can also provide an opportunity to earn continuing education credits. It won't only help you stay updated on best practices but will also offer new insights and perspectives from other HR professionals.

Why are HR seminars and webinars necessary?

HR seminars and webinars are necessary because they provide an opportunity for HR professionals to stay up-to-date on the latest compliance issues. They also present a prospect for networking and collaboration. Lastly, you will have insight from different speakers who offer new perspectives.

What is the structure of an HR seminar?

Every HR seminar is different, but most seminars are structured around a series of presentations from experts in the field. These presentations typically cover topics that are relevant to the current compliance landscape. Also, each seminar concludes with a certificate that can be added to resumes and shows competence in the field of human resources.
HR Certification offers in-person seminars to help with your HR training and career development needs. Signup for an upcoming human resources seminar!