Training For Your HR, Payroll, And Retirement Plan Compliance Requirements

HRcertification.com has offered online Training & Certification Programs, in-person seminars, and webinars for HR, benefits, retirement, payroll, and compensation professionals since 1994.
Each of our HR training courses is designed to deliver plain English guidance on how to meet your compliance requirements, with each course containing numerous tips, examples, interactive questions, and best practices to help you understand and comply with the topic area.
With these courses, you can earn a "Certified Administrator" or "Certified TPA" designation, as well as receive up to 32 hours of SHRM and HRCI re-certification credits. Please click on any Program name below to see more information about that Program.
---
Our Online Courses
---
Our online courses provide a quick, easy, efficient, and cost-effective way to stay in compliance with federally-mandated laws like FMLA, ADA, and COBRA, the variety of Payroll requirements, and the multitude of regulations for retirement plan administration.
Each of our courses use the same award-winning interface that is certified for design excellence by the American Society for Training & Development (ASTD), and includes numerous "Examples" and "Administrative Tips" throughout.
Our courses also qualify for SHRM and HRCI re-certification credits, and offer Certified Administrator and Certified TPA designations!
Leave Management / Federal Laws Retirement Plan Training Courses Payroll Training Courses Workplace Investigations Training
Program Benefits
Individuals can earn a "Certified Administrator" designation that improves your value
You improve your knowledge and performance levels
Managers have a quick, easy, and trusted way to train key personnel in compliance-required areas
Owners and Managers receive quantitative knowledge that the individuals assigned to perform administration are properly trained via course completion and Certification testing
Programs help meet "ongoing training requirements" under Federal regulations
Programs qualify for up to eight hours of SHRM and HECI re-certification credits
Third Party Administrators can earn a "Certified TPA" designation
Certifications / CE Credits / Awards

Become A "Certified Administrator"


Earn SHRM And HRCI Re-Certification Credits!

Recipient Of The ASTD "Excellence In Design" Award
---
Our HR Seminars
---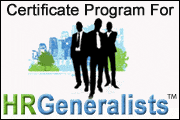 The following Certificate Programs are seminars designed help you to maximize your skill and value to your organization. You'll learn lots of best practices for keeping in compliance with state and federal laws and increasing your productivity.
Each of these seminars are held in cities across the country, each qualifies for up to 18 hours of SHRM and HRCI re-certification credits, and most include one or more of our Training & Certification courses at no extra charge. Simply click on a title to see the full course description, agenda, and/or available cities and dates.
---
Our HR Webinars
---
The following HR webinars are 90-minute training sessions on specialty topics such as how to handle garnishments, FMLA abuse, and other 'small' items that could cause big problems.
Our HR webinars typically qualify for 1.5 hours of SHRM and HRCI re-certification credits, and can be viewed from the comfort of your home or office.
To see our HR Webinar Calendar, go to Our HR Webinars
Related Links
HR Certification is proud to offer online training and certification programs, in-person seminars, online webinars, and much more for HR professionals!