COBRA Training & Certification Program
Changing rules, regulations, and court cases make COBRA compliance extremely complex. And as several well-known Fortune 500 companies have learned the hard way, improper COBRA administration can have costly results.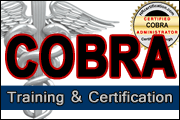 Our COBRA Training & Certification Program provides comprehensive information on proper procedures and design options, as well as an optional Test for a "Certified COBRA Administrator" designation. This Program also qualifies for eight hours of both SHRM and HRCI re-certification credits!
The Program's easy-to-learn design has numerous tips, examples, and procedural recommendations that are interspersed with interactive Q and A sessions so that you are confident that you are learning and in where your strengths and weaknesses lie.
It's "Bookmark" feature also lets you learn at your own pace, and gives you the ability to review previously completed material.
Learn COBRA Basics and Advanced Tips and Techniques
Proactively determine Cessation Of Dependency Status and other potential Qualifying Events before you're notified or - perhaps even worse - find out after the fact
Use Affirmative Rejection and Alternative Coverage design options to reduce health care and claims costs
Know how to address region-specific HMO issues, Health Flexible Spending Accounts, and other items where new guidance was recently issued
Handle Medicare, FMLA, and other coordination issues
And don't forget: you can earn a
Certified COBRA Administrator
Designation!

Become A "Certified COBRA Administrator"


Earn 8 Hours Of SHRM Or HRCI Re-Certification Credits

Recipient Of The ASTD "Excellence In Design" Award
An Overview Of COBRA Regulations
The Consolidated Omnibus Budget Reconciliation Act of 1985 (COBRA) generally requires that a covered group health plan provide an employee, a spouse, and a dependent child who was covered under the plan on the day immediately preceding the occurrence of a qualifying event with the opportunity to continue to participate in the group health plan after such individual's participation in the group health plan would otherwise terminate.
Under COBRA regulations, both group health plans and the individuals losing coverage under those plans have specific guidelines and strict timetables to follow in both offering and electing to receive COBRA coverage.
What Are The COBRA Requirements For Employers?
COBRA regulations put very strict COBRA requirements on employers for recognizing, notifying, and handling a myriad of COBRA administration requirements. Below are some of the basic COBRA requirements for employers. Essentially, you must know:

If your group health plan is subject to COBRA
Who among your plan participants is eligible for COBRA
When a COBRA 'Qualifying Event' occurs
When - and how - to properly send COBRA notices
For how long COBRA coverage should be offered
The rules for billing and collecting COBRA premiums
When COBRA coverage can be terminated
Whether to do COBRA administration yourself or to outsource it to a TPA
Best Practices For COBRA Administration
Under COBRA regulations, the right to continuation coverage is applicable only upon a loss of coverage under a group health plan as the result of specified events. As such, COBRA administration should include processes for:
Designing and deciding upon plan administration procedures (i.e., set loss of coverage dates at the end of the month instead of upon termination), processes (i.e., bill Qualified Beneficiaries monthly vs. giving a coupon book), and forms & notices (i.e., design and distribute our own vs. utilize a Third Party Administrator and its forms and notices)
Identifying COBRA events (i.e., Qualifying Events, terminating events, etc.)
Sending, receiving, and managing the required COBRA administrative paperwork and timeframes
Knowing when - and how - to properly terminate COBRA coverage
Keeping updated on COBRA court cases and regulatory changes that may affect your COBRA compliance procedures
Luckily, our COBRA Training & Certification Program covers all of the above in excruciating detail. Order today to better-manage your COBRA administrative requirements - and earn your Certified COBRA Administrator Designation!
View Excerpts And A Demo
To help you see some specifics on what is covered, we've included below a couple of samples from our COBRA course. Simply click the applicable link to get an overview of the training or, for a larger view, click here to see the complete list of covered topics.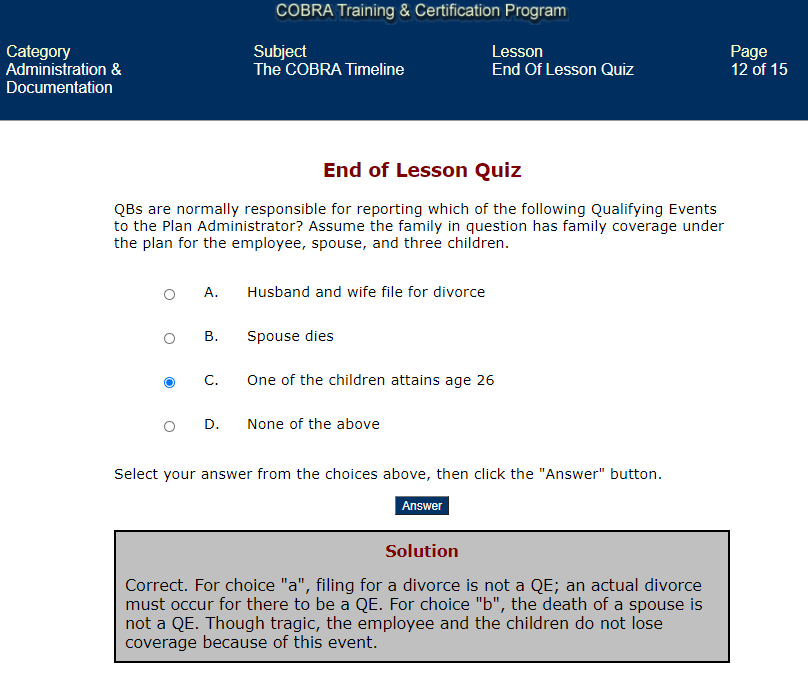 Who Should Use The COBRA Training & Certification Program?
The COBRA Training & Certification Program is ideal for HR professionals and supervisors who handle day-to-day COBRA administration.
It is also good for Third Party Administrators, Benefit Department Managers, or CFOs who seek satisfaction knowing that their administrators are properly trained and up to date on COBRA issues. Last, human resource professionals looking to add value to their job experience can earn the valued "Certified COBRA Administrator" designation.
As opposed to COBRA seminars, COBRA workshops, COBRA conferences, or any other type of COBRA training, an annual subscription to our online COBRA Training & Certification Program provides easy and continued access to content at any time of the day or night.
You also get updates any time the law changes, so you know you always have the most current and up to date information. And the annual renewal cost of only $99 gains you continued access to content, free updates whenever the law changes, and a new "Certified COBRA Administrator" certificate.
COBRA Training Features For TPAs and Large Organizations

Like all of our Training & Certification Programs, organizations enrolling three or more individuals in the COBRA Training & Certification Program receive our Management Interface at no cost. This interface lets you view employee progress, test scores, and any incorrectly answered test questions, which is great for remedial training. The interface also permits hierarchical levels whereby managers can view the progress, test scores, etc. of their direct reports.
Qualified TPAs also can earn a "Certified TPA" seal for use on your website, marketing materials, and proposals to help add to your firm's value proposition. In fact, we are the featured training partner for the National Association of Professional Benefit Administrators member TPAs!
Please call us at 678-366-3959 for questions on the interface, the seal, or the discounts for multiple person pricing.
Pricing/More Info/Purchase
Your COBRA training can be purchased as a Training & Certification Program ($599) or Manual ($599) only, or combined ($799). We also offer discounts for purchasing training for multiple employees or administrators.
About The COBRA Procedures Manual
Get instant answers for your COBRA questions - as well as all your COBRA-required forms and notices - with our searchable COBRA Procedures Manual.
Available as an online resource so that you always have the most up-to-date version, this package includes all COBRA-required forms, notices, and recommended procedures, and is easily accessible from either the Table of Contents or the links throughout the Manual.
Note: Because laws, regulations, and best practices frequently change or get updated, your Training & Certification program is sold as an annual subscription that helps you stay current. You receive: the training program itself; access to the course content as a resource material; free updates whenever the laws change, and an optional exam for earning a Certified Administrator designation. Access to resource materials, free updates, and a new Certificate are available for subsequent years for a low renewal fee of only $99 per year!
Our COBRA training and administration course provides comprehensive information on proper procedures and design options. Learn more about our COBRA training course!