The Payroll Management Training & Certification Program
The Payroll Management Training & Certification Program helps beginning and intermediate HR professionals learn the basic payroll requirements.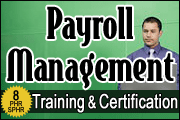 The Program includes plain-English descriptions of the various requirements, processes, and procedures, as well as numerous examples, administrative tips, and interactive Q&A to help provide valuable insight into compliance requirements.
The Program also includes an optional test for those who wish to earn a "Certified Payroll Management Administrator" designation. This Program also qualifies for eight hours of PHR and SPHR re-certification credits!
Besides the basics, you'll also learn:
To hire, train, and manage successful payroll professionals
To establish and maintain self-service, direct deposits, and paycard systems
To select and implement a payroll system
To handle and work with audits and disaster recovery plans
To implement anti-fraud plans
To comply with the various record retention requirements
Organizations enrolling three or more individuals also receive our Management Interface at no cost.
This interface lets managers view employee progress, test scores, and any incorrectly answered test questions - great for remedial training!