The Cafeteria Plan Training & Certification Program
Section 125 Cafeteria Plans are one of the most-used benefits offered by employers in the United States, yet they are often among the hardest to design and administer because of the numerous design and reimbursement options and the complexity of handling reimbursement requests.
The Program also includes an optional test for those who wish to earn a Certified Cafeteria Plan Administrator designation. This Program also qualifies for eight hours of PHR and SPHR re-certification credits!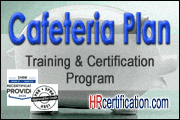 Learning Objectives
By taking this course, you will learn to:
Know which participants, benefits, and expenses are eligible for your Plan
Understand the advantages of various plan design and election options
Communicate your Cafeteria Plan to maximize participation
Properly process election, status change, and reimbursement requests
Understand and/or perform required Discrimination Testing
Comply with reporting requirements
Implement and follow proper documentation procedures
Includes Updates For The Affordable Care Act<!/p>
The Cafeteria Plan Training & Certification Program also includes updates due to the Affordable Care Act (aka Obamacare). Specifically, it covers:
The Use-It-Or-Lose-It Rule
The "Carryover" option
Change of Status requests due to coverage under state exchanges
The prohibition on annual dollar limits on certain benefits
Which Individual Insurance Plans are permissible under a Cafeteria Plan
Tips for handling same-sex marriages under a Cafeteria Plan
Organizations enrolling three or more individuals also receive our Management Interface at no cost. This interface lets managers view employee progress, test scores, and any incorrectly answered test questions - great for remedial training!