The Required Minimum Distributions Program
This course provides an overview of the Required Minimum Distribution (RMD) rules under IRC section 401(a)(9) as they apply to defined benefit plans.
The Program's easy-to-learn design has numerous tips, examples, and procedural recommendations that are interspersed with interactive Q and A sessions so that you are confident that you are learning and in where your strengths and weaknesses lie. And it's "Bookmark" feature also lets you learn at your own pace, and gives you the ability to review previously completed material.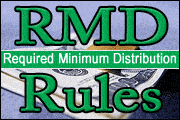 Learning Objectives

Upon completion of this course, you will be able to determine:
The Required Beginning Date (RBD) for defined benefit plans
How to calculate first year payments for Lifetime RMDs
How to calculate death RMDs
Who, if anyone, is a "designated beneficiary" for purposes of death benefits
How benefits must be paid if a participant dies before RMDs begin
How benefits must be paid if a participant dies after RMDs begin
Whether an annuity payment satisfies the RMD rules
Whether a "period certain" under an annuity satisfies the RMD rules
When Defined Benefit plan distributions are eligible rollover distributions
What portion of a lump sum distribution should be treated as an eligible rollover distribution
When an actuarial increase to a participant's benefits is required because of the participant's retirement date
When benefit payments must be adjusted because of additional accruals or vesting that occurs after distributions begin
How the RMD rules apply when a Qualified Domestic Relations Order applies to a participant's benefits