Plan Loans Training & Certification Program
This course provides an overview of the rules that apply to participant loans under qualified plans (including 403(b) plans).
It will help you understand these rules, and includes numerous tips, examples, and procedural recommendations that are interspersed with interactive Q and A sessions to help your learn quickly and easily. And it's "Bookmark" feature also lets you learn at your own pace, and gives you the ability to review previously completed material.
This course is sold as an annual subscription that gives you one full year's access to content, FREE updates, a "Fundmentals of Plan Loans" certificate, and two hours of PHR / SPHR re-certification credits. The annual renewal of only $99 gains you continued access to content, updates, a new certificate, and additional CE credits each year.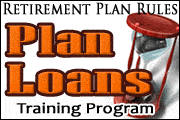 Learning Objectives
Upon completion of this course, you will be able to:
Identify the purposes for which a participant loan may be made
Determine the maximum loan amount
Describe how to apply loan repayments
Identify the requirements that must be satisfied in order for a participant loan to avoid being a prohibited transaction
Identify the requirements that must be satisfied in order for a participant loan to avoid being treated as a taxable distribution
Describe the deemed distribution rules
Describe various participant loan issues and how to correct them