The HIPAA Privacy Training & Certification Program
The complex privacy requirements of the Health Insurance Portability and Accountability Act (HIPAA) has broad application for many health plans, service providers, and human resources professionals as these rules create significant limitations in the way that certain health information is maintained and transferred.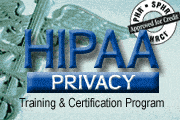 HR professionals, including in-house HR personnel, consultants, advisors, service providers, and administrators need to learn the various requirements in order to ensure compliance.
The Program also includes an optional test for those who wish to earn a Certified HIPAA Privacy Administrator designation. This Program also qualifies for eight hours of PHR and SPHR re-certification credits!
The Program's easy-to-learn design has numerous tips, examples, and procedural recommendations that are interspersed with interactive Q and A sessions so that you are confident that you are learning and in where your strengths and weaknesses lie. It's "Bookmark" feature also lets you learn at your own pace, and gives you the ability to review previously completed material.
Besides the basics, you'll also learn how to:
Identify the types of Protected Health Information (PHI) that are subject to HIPAA rules
Determine which entities are and are not covered by HIPAA rules
Recognize proper and improper uses and disclosure of PHI for treatment, payment, health care operations, and other activities
Understand how to comply with HIPAA requirements for proper privacy notices
Organizations enrolling three or more individuals also receive our Management Interface at no cost.
This interface lets managers view employee progress, test scores, and any incorrectly answered test questions - great for remedial training!