The HIPAA Security Training & Certification Program
The HIPAA Security rules require covered entities to implement safeguards to protect Electronic Protected Health Information (EPHI) from unauthorized access, alteration, deletion, and transmission.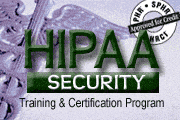 These rules place multiple requirements on covered entities, and has broad application for many health plans, service providers, and human resources professionals as these rules create significant limitations in the way that certain health information is maintained and transferred.
HR professionals, including in-house HR personnel, consultants, advisors, service providers, and administrators need to learn the various requirements in order to ensure compliance.
The HIPAA Security Training & Certification Program covers both the basics and the detailed rules. The Program includes plain-English descriptions of the requirements, as well as numerous administrative tips, examples, and interactive Q&A to help provide valuable insight into compliance requirements.
The Program also includes an optional test for those who wish to earn a "Certified HIPAA Security Administrator" designation. This Program also qualifies for four hours of PHR and SPHR re-certification credits!
Besides the basics, you'll also learn:
How to identify the types of Electronic Protected Health Information (EPHI) that are subject to HIPAA rules
The "Administrative", "Physical", and "Technical" safeguards required by the Security rules
The "required" implementation specifications
The "addressable" implementation specifications
How to implement appropriate workstation policies and procedures, including the tracking of hardware and software
The responsibilities of hybrid and affiliated organizations
How to edit/update existing Business Associate Agreements to comply with the HIPAA Security Standards
Make required amendments to the group health plan document
The various HIPAA Security policies, procedures, and documentation requirements
Organizations enrolling three or more individuals also receive our Management Interface at no cost.
This interface lets managers view employee progress, test scores, and any incorrectly answered test questions - great for remedial training!