Description: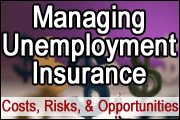 Employer-paid unemployment insurance taxes and costs have increased in recent years. For some employers, UI tax liabilities have increased by more than 300 percent and have had a significant impact on the bottom line.

While higher UI tax liabilities are just most obvious risk created by employee separations and unemployment insurance claims; they are only the beginning. Unemployment insurance claims increasingly expose organizations to other potential liabilities: from wage and hour violations for misclassifying independent contractors to providing plaintiffs with discovery opportunities in other employment litigation.

Effective management of an organization's unemployment insurance experience provides the organization with the opportunity to improve its talent management results, improve its hiring and on-boarding processes, enhance its performance management and discipline procedures, and reduce its exposure to discrimination and wrongful discharge claims.

Effective UI management also allows organizations to use UI metrics to assess human capital risks, measure supervisor and manager performance, more accurately allocate resources, and have a positive impact on the bottom line.

Training Objectives

This audio conference provides an update on federal and state UI issues, assesses the risks and costs associated with UI taxes and benefits, and discusses effective UI tax management and cost control techniques. By attending, you and your co-workers will:
Gain an understanding of key unemployment insurance issues

Discuss the strategic issues of employment stabilization and employee separation management

Learn to identify and assess the risks associated with the federal-state UI program

Discuss the financial implications of UI liabilities

Learn how sound HR management practices reduce an organization's exposure to UI liabilities and costs

Identify and use UI Key Performance Indicators (KPIs)
About Your Speaker:

Ronald Adler is the President and CEO of Laurdan Associates, Inc., a veteran owned Human Resource management consulting firm specializing in HR audits, employment practices liability risk management, HR metrics and benchmarking, strategic HR-business issues and unemployment insurance issues. Mr. Adler has more than 42 years of HR consulting experience working with U.S. and international firms, small businesses and non-profits, printers, insurance companies and brokers, and employer organizations.

Mr. Adler is an internationally-recognized thought leader on HR auditing and is the co-developer the Employment-Labor Law Audit (ELLA), the nation's leading HR auditing and employment practices liability risk assessment tool.

Mr. Adler is an adjunct professor at Villanova University's Graduate Program in Human Resources Development and teaches courses on HR auditing and HR management. Mr. Adler is also a certified instructor for the CPCU Society and conducts courses on employment practices liabilities. Mr. Adler serves on two national taskforces developing professional standards in human capital measurement and performance management.

Mr. Adler is a member of the Institute of Internal Auditors and the Society for Human Resource Management (SHRM), where he serves as a subject matter expert (SME) to SHRM on HR metrics and workplace issues.


PHR / SPHR Re-Certification Credits

This audio conference is approved for 1.5 hours of HRCI credit. The use of this seal is not an endorsement by HR Certification Institute of the quality of the program. It means that this program has met HR Certification Institute's criteria to be pre-approved for re-certification credit.
About The Provider:
The Industry Calendar creates and sells webinars, audio conferences, and seminars for busy business professionals.

For over ten years we've done the work of listing the important, don't-miss events in one convenient location so you can quickly and easily learn about key training topics that keep you up-to-date on trends and best practices, all while helping to keep you in compliance with the various rules and regulations affecting your organization.